Holy Shit! Now That Was a Beautiful Game!!!
By: Inara | November 8th, 2007

From now on, I'm going to stop making predictions. In my match preview, I was expecting a drab 1-0 scoreline. Umm, obviously I was off. How off, you ask? Well, today's match between Lyon and Stuttgart featured six goals – and a missed penalty!!!!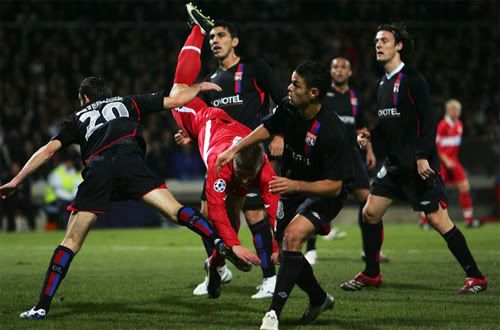 Bodies were flying everywhere in this battle to the death.
Goals: Lyon (Ben Arfa 5, 37, Kallstrom 15, Juninho 93), Stuttgart (Gomez 13, 56)
Sanctions: Lyon (Reveillere 57, Grosso 74, Govou 88, Keita 91), Stuttgart (Basturk 50, Tasci 73)
Highlights and pictures at end of post.
Tactics: Lyon's trademark 4-3-3
Vercoutre
Reveillere – Squillaci – Anderson – Grosso
Juninho – Fabio Santos – Kallstrom
Govou – Benzema – Ben Arfa
I think it's safe to say that this is Lyon's starting XI, at least for now. This is the fourth time that Perrin has utilized this lineup, and Lyon have won all four times. Fabio Santos does a good job in the holding midfield role, and Kim Kallstrom performs Tiago-esque by alternating between helping out Fabio Santos defensively and Juninho offensively.
Also, Sidney Govou and Hatem Ben Arfa have the freedom to switch sides frequently, which kept Stuttgart on their toes. I'm beginning to think that Govou really likes the left, since most of his more dangerous moments were when he was on that side.
Player Performances:
Someone in a previous post asked why I don't rate player performances. I considered it, but I think I'll have to pass on that. I don't quite have the knack of determining the difference between a 6 and a 6.5, so I'll leave that to L'Equipe and France Football. I'll just have to settle for making comments.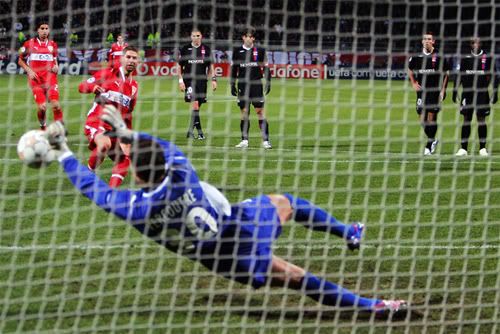 Vercoutre confirmed his prowess as a shot stopper.
First, I want to say that Remy Vercoutre was, in my opinion, Lyon's Man of the Match. Those of you who read this blog know I'm very critical of Vercoutre and don't think he deserves to start for Lyon. I still hold that to be true, but today, Vercoutre put in a performance worthy of Lyon's #1. He did make an error on the first Mario Gomez goal, but considering all the other saves he made, I'll let that one slide. He also saved a penalty (wrongly awarded to Stuttgart), and that probably kept the match in Lyon's favor because had Stuttgart scored, they would have tied with Lyon, which would have been fatal for Lyon's qualification hopes.
Anthony Reveillere had a solid match today though he picked up a needless yellow card. He now has two – if he gets one more, he'll be suspended. The other fullback, Fabio Grosso, was alright today. He had some nice runs down the left but lost possession a bit too easily. As for the center backs, Sebastien Squillaci and Anderson had a tough time containing Gomez and Cacau. I was alarmed at how easily OL's CBs were overtaken.
In midfield, Kim Kallstrom was stellar today, especially in the first half. Not only did he score, but he also assisted Hatem Ben Arfa's first goal, and had several other shots that were saved by Stuttgart's keeper, Raphael Schafer. Juninho went up in power as the match went on, and I was impressed to see him everywhere – in Stuttgart's penalty box, in Lyon's penalty box, always attacking, always defending. Juninho fought from the first minute until the last and was rewarded by a goal at the very end. Also, is anyone missing Jeremy Toulalan? Fabio Santos was great today! Excellent tackling, good passing, and he created a lot of space for Juninho and Kallstrom. Perrin will have a selection headache when Toulalan returns to fitness.
A rare off night for Benzema.
Karim Benzema probably had one of his poorer matches this season. He didn't play badly, but he was tired and had less movement on the ball than usual. He did have a few attempts at goal, but you could tell that he needed rest. I know Perrin had no choice but to start him today, but if that was the case, then Benzema should not have played last Saturday against Valenciennes. He might be a burgeoning world class player, but he's only 19, and his body isn't ready to handle such an intensive playing schedule. I noticed that he took a knock early in the game and limped a bit, which may have affected his performance today as well.
Sidney Govou confirmed his recent string of good performances by successfully harassing Stuttgart. As Lefutur pointed out, the shift in Govou's priorities this season is behind his remarkable resurrection as a French international. His passing was sublime, and it was fun to watch him run circles around Stuttgart's defenders. He did miss two easy chances at goal, but he wouldn't be Govou if he weren't a bad finisher.
And of course there is Hatem Ben Arfa, who scored a brace today. Today he showed us once again that Lyon don't need Florent Malouda, Mancini, Jose Antonio Reyes, and all those other fancy players. Ben Arfa owned Stuttgart with his fast pace, tricky dribbling, and clever passing. His first goal was great, but his second goal – just WOW. I advise you guys to watch the video highlights of it. Until today, he's never scored in the Champions League before, but now he has two goals in ten matches.
Ben Arfa's second brace in two weeks.
As for the substitutes, Kader Keita came on for Benzema but failed to impress (though I'm not holding it against him – the guy can only do so much in such a limited amount of time). Same with Nadir Belhadj, who replaced Ben Arfa. But Lyon's third substitution, Francois Clerc, who replaced Govou, provided the assist to Juninho's last minute goal.
Match Analysis:
Don't let the scoreline deceive you – it's quite flattering for Lyon. In reality, I was alarmed at Lyon's performance tonight. While it was nice to win, especially at home, where Lyon have failed to win in their last three CL matches, I think Lyon owe their victory to a lot of luck.
The match started out brightly enough in Lyon's favor, especially with two goals in the first 15 minutes. But then, in what is becoming an alarming habit, Lyon dropped their guard, and a minute later, Gomez put one back for Stuttgart on a rebound. After that, Stuttgart kept pushing and pushing, and it was with a sigh of relief when Ben Arfa added a third goal for Lyon right before half time.
It was all too easy for Mario Gomez.
But Lyon again lost their concentration, and after a silly mistake by Vercoutre, Gomez added another for Stuttgart. From that moment on, Stuttgart looked to be the most dangerous team. They had a lot of good opportunities and looked like they could equalize at any second. They nearly did when Gomez went down at the edge of the box (though replays showed he tripped and was not fouled). Thomas Hitzlsperger took the penalty, but it was saved by Vercoutre, hero of the night. Had Stuttgart scored, Lyon would have been fucked.
Lyon managed to recover from the shock and started to attack back, but again, it was their lack of finishing that failed them. Lyon had so many chances to kill the match – even the commentator was amazed by it! In fact, I noticed that Lyon's determination to play attractive football often times complicated what should have been simplified movements. At times, it was like Lyon was trying to pass Stuttgart to death! It reminded me of last year's Arsenal, who would spend so much time and energy on build up play that they would bungle the final touch.
Still, it's nice to see Lyon be attractive offensively, something that was sorely missing from the side for a long time now. The complicity between Ben Arfa, Benzema, Govou, and Juninho is great to watch.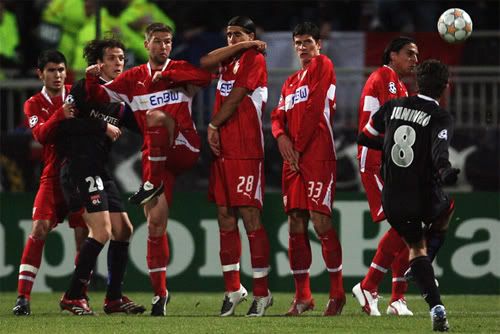 Who says that Juninho's a fading star?
But Lyon can't expect to progress in the competition if they don't work out their defensive kinks, which primarily involve losing focus and failure to properly man mark. There were too many instances in the game when Mario Gomez was left unmarked, and too many times when Stuttgart managed to bypass Lyon's defenses.
I'm not sure what Perrin can do to address this issue in time for the next Champions League match, when Lyon welcome Barcelona, but he's going to have to do something.
Match Highlights (sorry for the quality):
Match Photos (be patient as they load, there are a lot of them):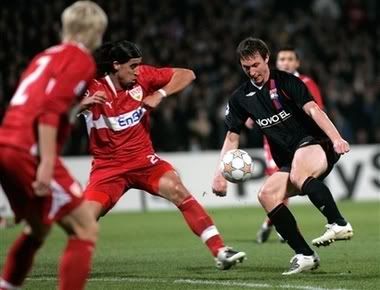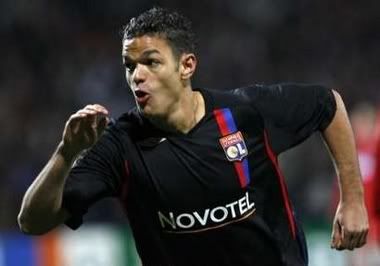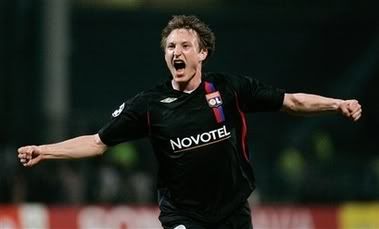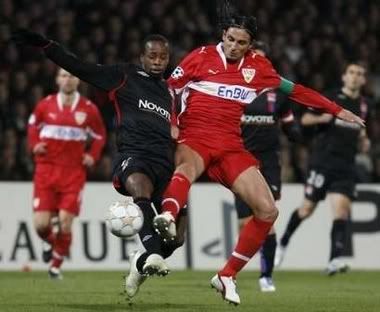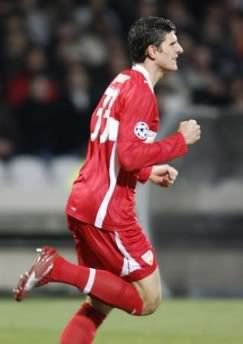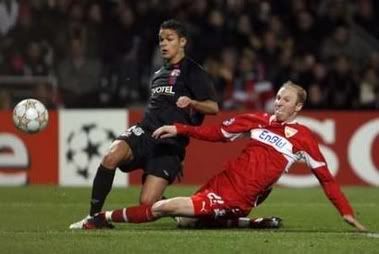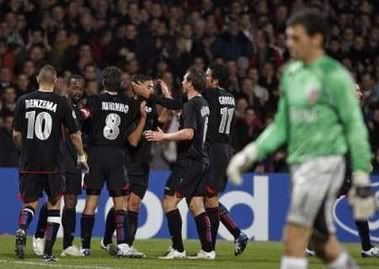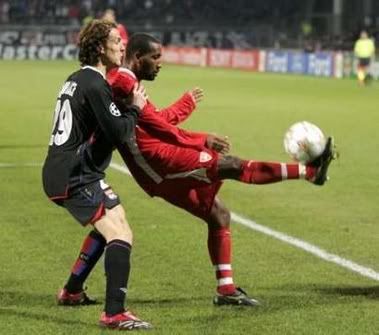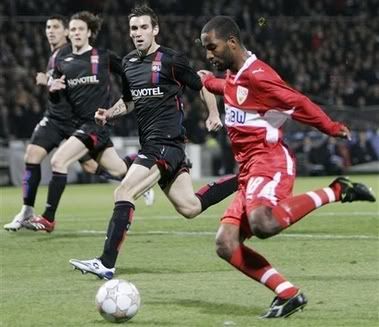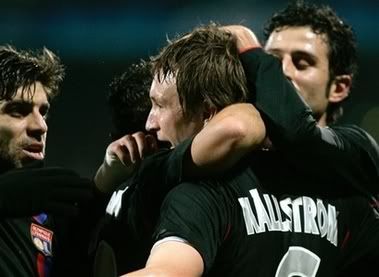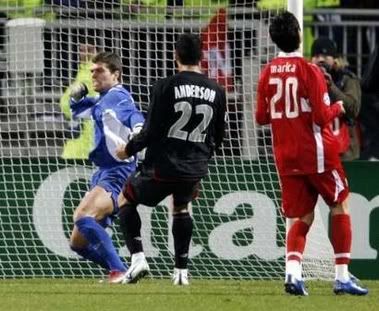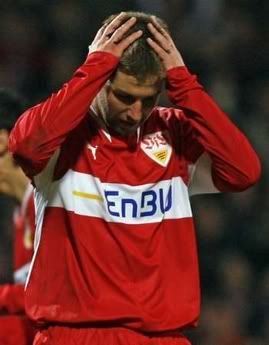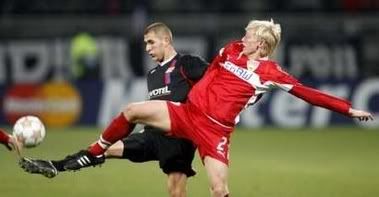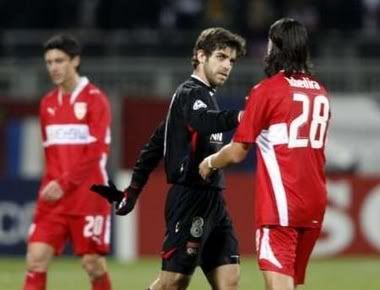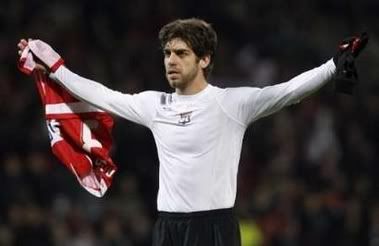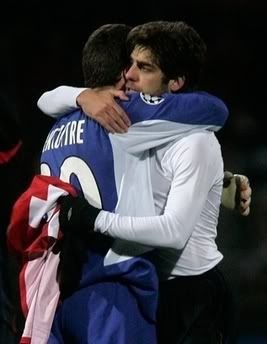 Some Related Lyon Posts:

Category:
Champions League
,
Match Results
,
Pictures
,
Team News and Rumors
,
Video
blog comments powered by

Disqus