Foto: Fabio Grosso's Significant Other
By: Inara | July 13th, 2008

So today I broke down and finally removed the Hatem Ben Arfa category. It was a tough decision, but my therapist told me that it's important that I begin the healing process (it was a really bad breakup).
With Ben Arfa gone, I've decided that it's time to upgrade Fabio Grosso to his own category, especially since he's always in the news (sometimes he's stripping, sometimes he's slapping people, and sometimes he just makes us say wtf). To celebrate, here is a picture of Fabi with his WAG, Jessica Repetto. Their son Filippo looks just like his dad, btw.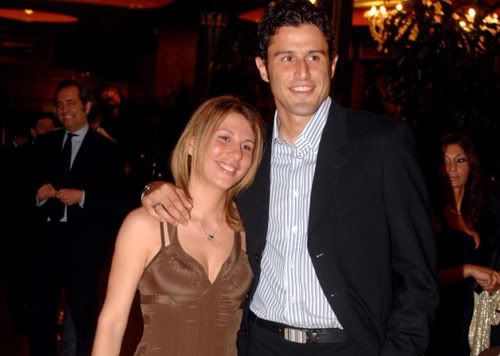 Anyway, I hope Grosso doesn't do anything stupid like leave Lyon this summer because that would make him the shortest category in the history of the world. Plus I'm getting really attached to him, and I'd miss his long, flowing, curly locks of hair as he runs up and down that left side. Even if his defending makes me cry sometimes.
Some Related Lyon Posts:
blog comments powered by

Disqus